The Reserve Bank of India (RBI) on Tuesday banned any kind of trading transaction on the Punjab and Maharashtra Operating Bank Limited (PMC) in Mumbai. The RBI move has created a tremendous shock to the bank's investors and the business community in the city. According to the RBI directive, account holders cannot withdraw more than Rs 1,000 from their savings, current or any other account, according to RBI directive.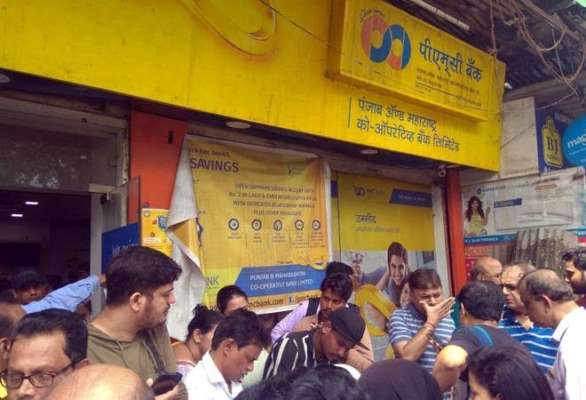 Customers who arrived at PMC Bank across the country, including Mumbai, after the Reserve Bank's order, found the bank shutter closed at several places and where no one was found open, no one was willing to say how their account raised over Rs 1,000 in six months. Will come out The common people in the bank have not only sewing or current account but also celebrity accounts. On social media, people like Ranjan Tendulkar, Vijay Gupta and Dinesh Mehta have written that their salaries come from the PMC bank account. How will the cost of a home be spent in such a situation?
Dinesh mehta
@ Dineshm18884591
@RBI i got msg from @PMC_Bank today that all savings account are freezed. Now pls tell how to pay EMI which is debited through ECS. I have a salary account only.
Who will bear late charges for EMI? Customer? Rbi? Or PMC bank? Please clarify this pls
1
11:14 AM – Sep 24, 2019
Twitter Ads info and privacy
See Dinesh mehta's other Tweets
Ranjan Tendulkar
@TendulkarRanjan
· Sep 24, 2019
RBI puts Punjab & Maharashtra Co-operative Bank under restrictions for 6 months. Depositors will be allowed to withdraw a sum not exceeding 1000
@ snapnchat @ preetikhatri22 @ FriendlyPhysio @ rajeshparikh999 @ BhatiaRaymond @ maarisha_appu @ PrafullaDeshmuk
Embedded video
Ranjan Tendulkar
@TendulkarRanjan
What should the account holder do on receiving this message? 1000 is all that we can withdraw over 6 months. Many people have their salary account in PMC bank and now they can't even withdraw their hard earned money.
View image on Twitter
4
1:42 PM – Sep 24, 2019
Twitter Ads info and privacy
See Ranjan Tendulkar's other Tweets
In many places in Maharashtra, there was a riot in the PMC banks. Long queues of women have been seen in many branches to raise money and these women are wondering how the needs will be met by the last 1000 rupees. Wherever the PMC branches are open, there is turmoil and the account holders are becoming angry at the employees at the branch.
Rofl Republic
@i_theindian
"The country is in safe hands!" – Narendra Modi #pmcbank
Embedded video
37
2:45 PM – Sep 24, 2019
Twitter Ads info and privacy
50 people are talking about this
PMC Bank has been barred from making loans and advances, making any investment, accepting fresh deposits without the prior RBI approval. Following the RBI decision, a huge crowd of customers has gathered in the bank. People have reached the bank to withdraw money from their accounts.
However, the RBI has also made it clear that sanctions should not imply that the banking license of PMC Bank has been revoked. The RBI has said that PMC banks may do business with restrictions until further notice or direction. The Reserve Bank may amend these guidelines according to the environment. The ban will remain in effect for the next 6 months. The RBI has imposed sanctions on the operative bank for violating separate rules under separate provisions of the Banking Regulation Act, 1949. At the same time, RBIPMC will keep a close eye on bank transactions.
It is noteworthy that there are a total of 137 PMC branches in Maharashtra, Delhi, Karnataka, Goa, Gujarat, Andhra Pradesh and Madhya Pradesh. The PMC has been accused of financial irregularities, which has been banned by the RBI. As per the data till March 2019, the bank has about Rs 11617 crore deposits of common people and companies. The bank reported a profit of Rs 99.69 crore in the last financial year, up from 100.90 crore in the previous year.