Allahabad: Samajwadi Party leader Azam Khan has received great relief from the Allahabad High Court. The High Court on Wednesday withdrew an FIR against him on all land matters relating to Muhammad Ali Johar University. Is. The apex court has also barred his arrest in connection with an FIR registered by farmers at the Greater Nagar police station in Rampur. In addition, Jaya has issued notice to the veil and has sought response from the state government and other stakeholders. An October 24 hearing has been set for further hearing on the petition.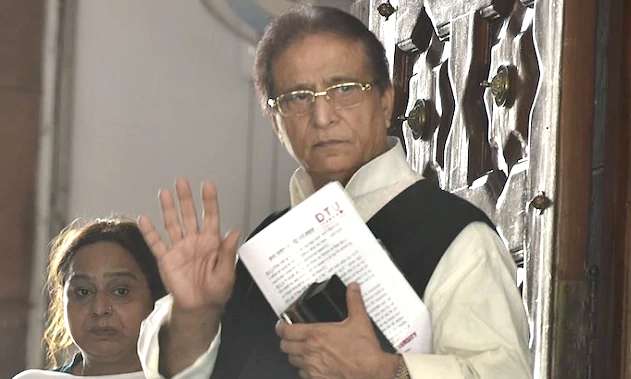 In the Allahabad High Court, a division bench of Justice Manoj Mukherjee and Justice Manju Rani Chauhan heard the petition of Azam Khan and issued a stay order in respect of 29 ongoing cases against him. It is being reported that on this basis, Azam Khan can now be relieved in other matters. Earlier, the court notes were affixed to all cases, including the seizure of land against them at the main gate of Azam Khan's residence in Rampur on Tuesday.
Advocate Qamar-ul-Hassan Siddiqui and Safdar Kazmi said that Jaya Prada has filed an FIR in the Lok Sabha elections to farmers in respect of the land of Mohammed Ali Johar University in Rampur. He said that 28 politics-related FIRs have been registered against Azam Khan. It is to be noted that the farmers have accused Azam Khan of forcible occupation of land, which has been filed by Azam Khan in the High Court and retaliation against the state government.
A division bench of the High Court has issued a stay order on 29 cases registered against Samajwadi Party MP Atim Khan's petition.
It may be noted that more than 85 cases have been registered against Azam Khan by the Rampur administration and others. These include cases of buffalo theft, goat theft, book theft from a madrassa, lightning theft, unintentional murder, looting, cheating and other serious provisions. Not only that, but in many cases his wife's fiancée, Fatima, both sons and maternal grandmother were also named. In addition, Azam Khan has also been declared a land mafia by the Rampur administration.